current issue november 2014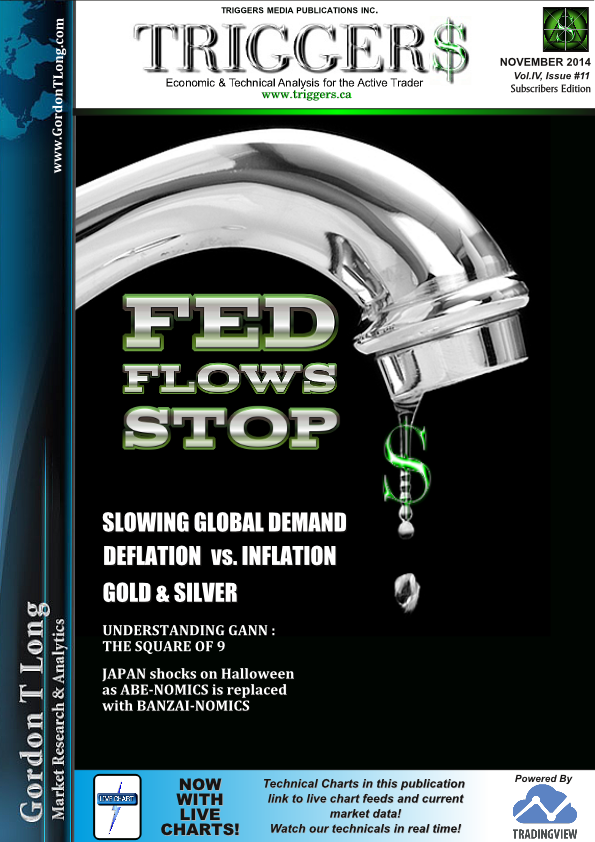 want a look inside? FREE Public Edition
issue #11, Vol IV

Welcome to TRIGGER$
More than just another trading magazine, each issue is a complete market report for your due diligence!
Another great issue this month!
Gordon's Cover Article this month takes a look at the FED and decreasing liquidity, showing us what is going on and the impact it will have; his Feature this month's looks at Slowing Global Demand. Gordon also gives us a quick note on the recent "Japan shock" and what it means.
Shane discuss Deflation vs. inflation and demonstrates how both are occurring.
I do an analysis of Gold & Silver, making a case for their next move; and discuss GANN in the Traders Mentor.
All the regular sections are here as usual to add to your perspective of the market.
WATCH THE HPTZ METHODOLOGY IN ACTION
new! free usd report (nov 2014)
new! free gold & silver report (oct 2014)
article : what is (& isn't) possible with technical analysis
free gold report (march 2014)