current issue August 2014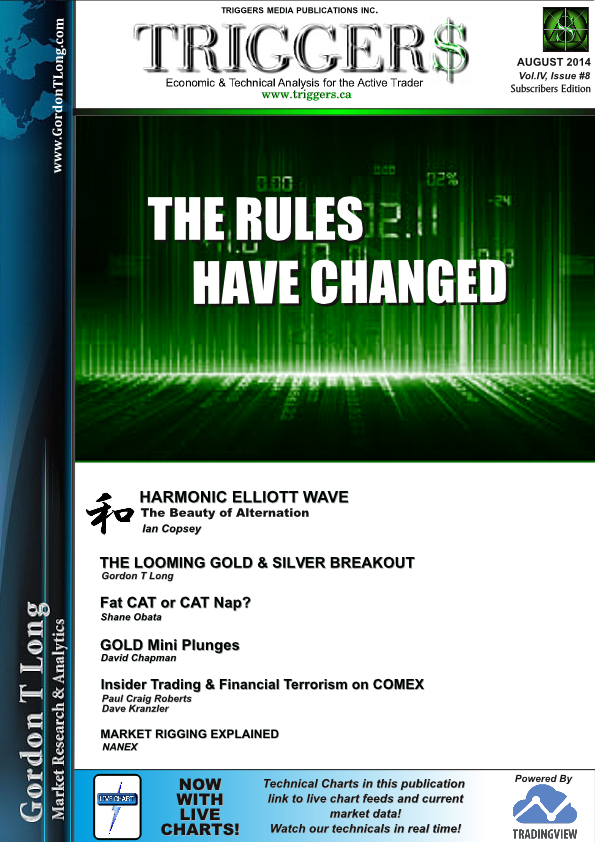 want a look inside? FREE Public Edition
issue #8, Vol IV
Welcome to TRIGGER$ – more than just another trading magazine, each issue is a complete market report for your due diligence.
This month's articles have a bit of a theme as they look at different layers of market dynamics: From Gordon's cover article, analyzing the latest policies and other factors that are impacting the markets at a macro level; to a feature article from David Chapman, who looks at some of the underlying contributing factors of the latest Gold drop-off; to some interesting articles on High Frequency Trading; to my own article on The Technical Market.
Gordon also shares his thoughts on a Looming Gold & Silver Breakout.
Guest author Ian Copsey continues his series on Harmonic Elliott Waves, this time looking at The Beauty of Alternation.
Shane not only gives us an excellent analysis on CAT (both fundamental and technical), he also shares with us how he is personally trading it! See: Fat CAT or CAT Nap?
As well as all the usual analysis to add to your due diligence and understanding of the markets!