current issue september 2015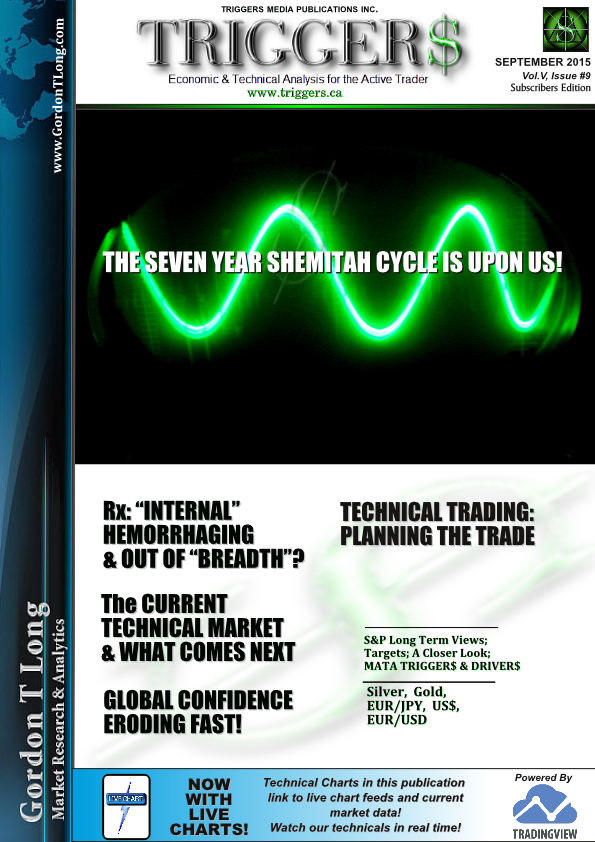 want a look inside? FREE Public Edition
issue #8, Vol V

Welcome to TRIGGER$
More than just another trading magazine, each issue is a complete market report for your due diligence!
Another great issue this month!
Gordons Cover Article looks at the Shemitah cycle and the current climate, warning of more potential disaster ahead. His Feature Driver article discusses failing Global Confidence and its implications. His third article looks at the hemorrhaging market internals.
Andrew gives us two technical articles to consider, discussing the current technical market and planning the technical trade.
All our usual sections are here as always to offer different perspectives and aid in your market understanding. .
A quick review of our S&P market analysis this year. While the recent market moves have caught some by surprise, we have been expecting it for some time. As you will see, several warnings were clearly given. Charts 1 – 3 were published at the beginning of spring this year. These are weekly charts and […]
While the major indexes have seen a drastic move recently (more on these later), the USD takes center stage. I say this because it may give us clues as to what to be expecting next. Similar to the indexes the USD has also had a dramatic drop.  Note on the chart that the recent drop […]
WATCH THE HPTZ METHODOLOGY IN ACTION
NEW! Video: 2014 review / 2015 preview