current issue may 2016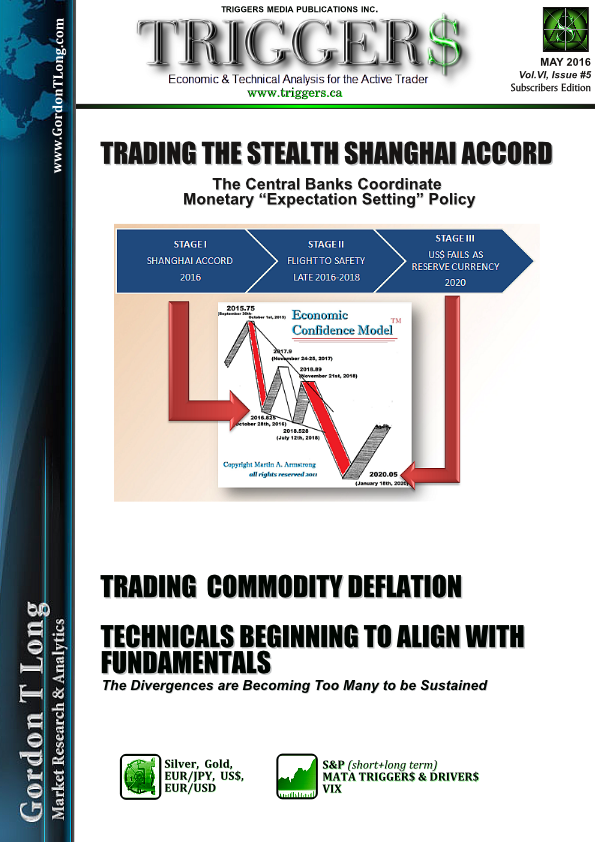 want a look inside? FREE Public Edition
issue #5, Vol VI

Welcome to TRIGGER$
More than just another trading magazine, each issue is a complete market report for your due diligence!
Another great issue this month!
Gordon gives us two great articles this month to consider - these are actionable items! He looks at potential opportunities arising from both the Stealth Shanghai Accord and Commodity Deflation. You may get some ideas!
Gordon's third article takes a look at the current market climate and what it is telling us – divergences are too many to be sustained!
The markets are at significant technical points – see what the next likely moves are to be!
Thank-you &
Good Trading!
Andrew J.D. Long, MFTA
A quick review of our S&P market analysis this year. While the recent market moves have caught some by surprise, we have been expecting it for some time. As you will see, several warnings were clearly given. Charts 1 – 3 were published at the beginning of spring this year. These are weekly charts and […]
There is potential to see some significant market shifts as we go in to the New Year, potentially starting in the first week of December. Several markets are coming up on important technicals. These technicals could potentially stop and reverse the current trends. As these markets are significant in the overall marketplace, we could see a general […]
WATCH THE HPTZ METHODOLOGY IN ACTION