current issue october 2014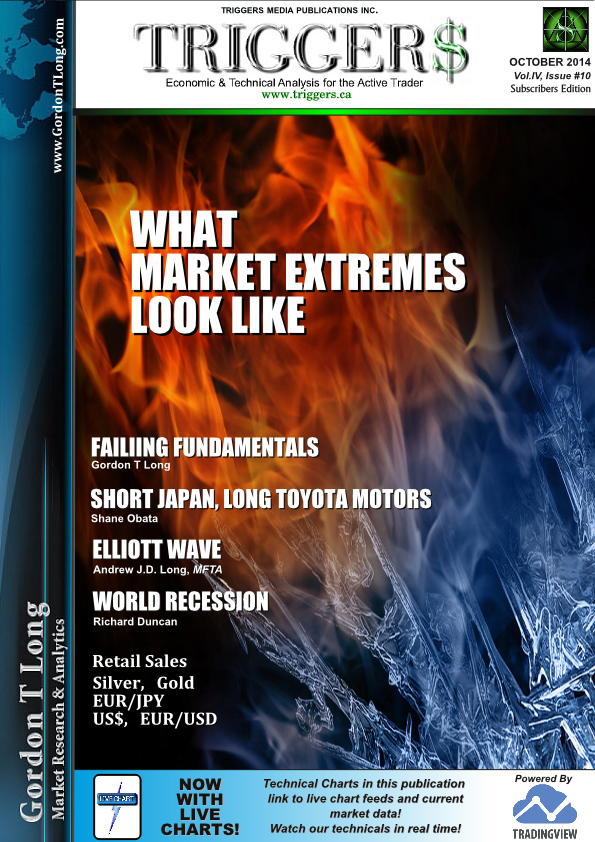 want a look inside? FREE Public Edition
issue #10, Vol IV

Welcome to TRIGGER$
More than just another trading magazine, each issue is a complete market report for your due diligence!
Another great issue this month!
Gordons Cover Article takes a look at the markets from several different perspectives, showing that they are all at extremes! In his Feature Article he analyzes the current state of the market fundamentals and sees them failing!
Shane puts together a tight analysis of Japan and Toyota Motors, not just the fundamentals but he also shows off his charting skills using the HPTZ Method.
The mentor section contains a fairly in-depth write up on Elliott Wave, Fibonacci and market projections. You want to see this!
As usual, all our regular sections are here with need to know information to complete your market analysis and due diligence!
WATCH THE HPTZ METHODOLOGY IN ACTION
new! free gold & silver report (oct 2014)
article : what is (& isn't) possible with technical analysis
free gold report (march 2014)